Welcome to our Homeowner's Website
Who Are We?
We are an association of homeowners in Santee, CA. We are attempting to use internet technologies, including this site, to keep each other informed.
The construction of the Aubrey Glen community of townhomes was completed in 2008 by Pulte Homes.
Frequently Asked Questions
FAQ Document from Pulte Homes:
Where Are We?
Off Mission Gorge Road, just west of West Hills Parkway
Entrance: corner of Aubrey Glen Drive and Mission Gorge Road Santee, CA 92071
Map
Search Google Maps, or Yahoo Maps for:
Pure Flo Water Co. 7737 Mission Gorge Rd, 92071
or
7699 Mission Gorge Rd, 92071
View Larger Map
Community Map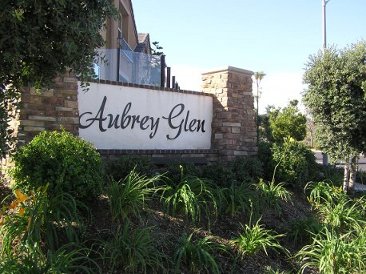 Sale or Rental Information
People sometimes ask if any of the townhomes are for sale or rent.
Most of the homes are owner-occupied. Check local real estate listings to see if any of them are for sale, or rent.
---
About the Webmaster
Scott M, B.S. CIS, CNE, MCSE, RHCT, HP APS
Webmaster AT AubreyGlenCommunity DOT com
http://www.systemnotes.org/about.html
---